I have been living in San Diego for almost year and have taken a few day trips to Los Angeles. Sometimes I just wonder how these two cities differ from each other. For example, which city offers better options for food? Well, that's what we are going to find out in this post!
Which city has more restaurants?
LA has a larger population than San Diego (3.9 million vs. 1.4 million, 2013), thus we would assume that LA also has more restaurants. Indeed, LA beats San Diego based on the number of rated restaurants on Yelp, as shown below: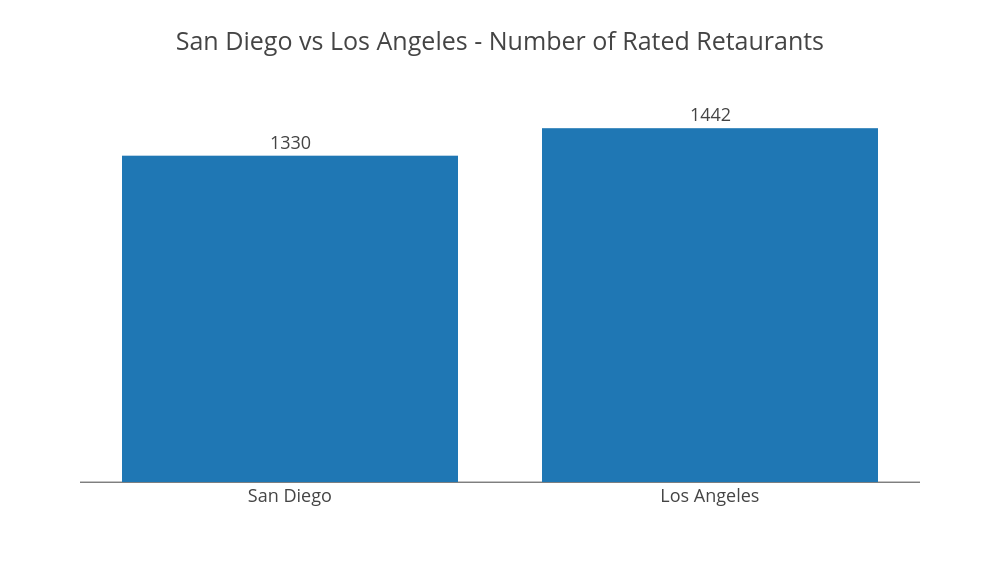 If we further put those restaurants into four categories based on their price ranges, we can see that the proporation of restaurants under $10 is lower in LA compared with San Diego. In contrast, LA has more restaurants that fall into the $31-60 and above $61 price ranges. This may suggest that people in LA are richer than San Diegans, or they are more willing to spend money on high end cuisines.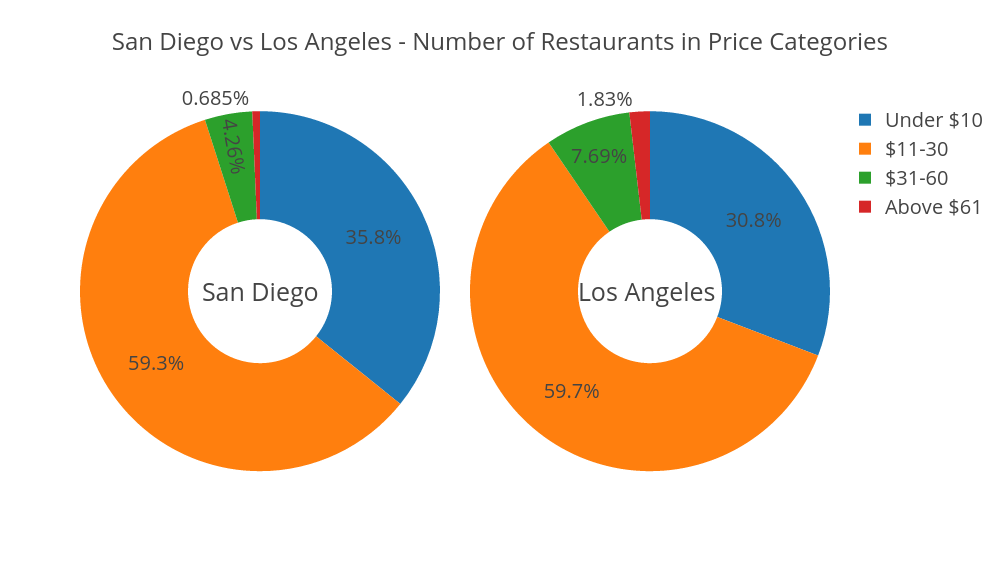 Which city' restaurants are better rated?
People rate restaurants on a scale of 1 to 5 on Yelp, with 5 being the best. We first compare the "weighted" average rating of restaurants in San Diego and LA (i.e. take the number of votes into consideration as well. For exmaple, a restaurant receive 5 votes would have more "weight" that one that receives only one). Interestly, restaurants in both cities have a weighted average rating of 4. So, we will call it a draw in this round.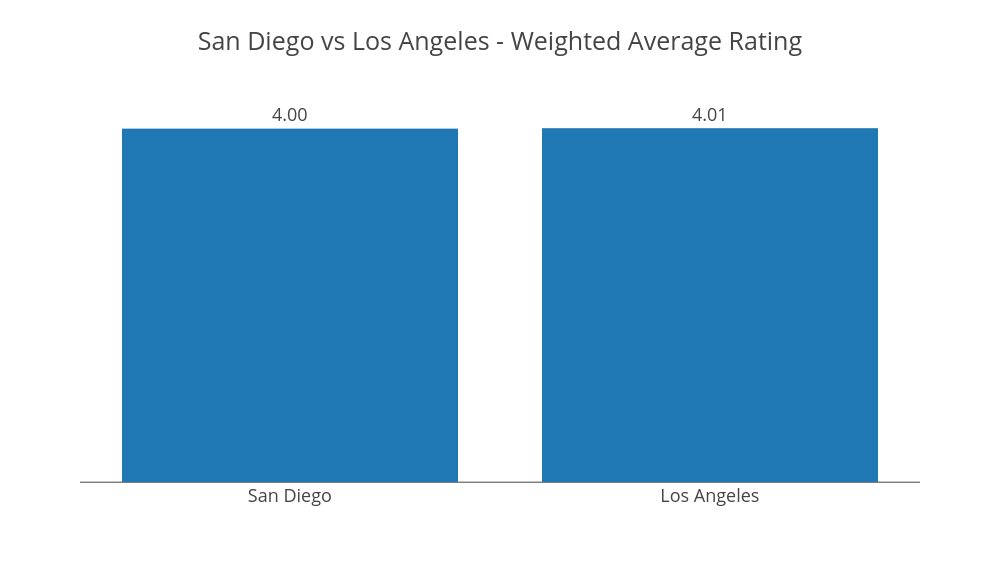 In addtional to the weighted average rating, we can also look at the distribution of ratings that all the restaurants have received. Although the the majority of the restaurants have a rating ranging from 3.5 to 4.5 and peak at around 4, there are more "highly-rated" resterants (4.5 and above) in LA, while San Diegans are more likely to give restaurants lower ratings (3.5 and below). Therefore, you may have a better chance of having a nice meal in LA.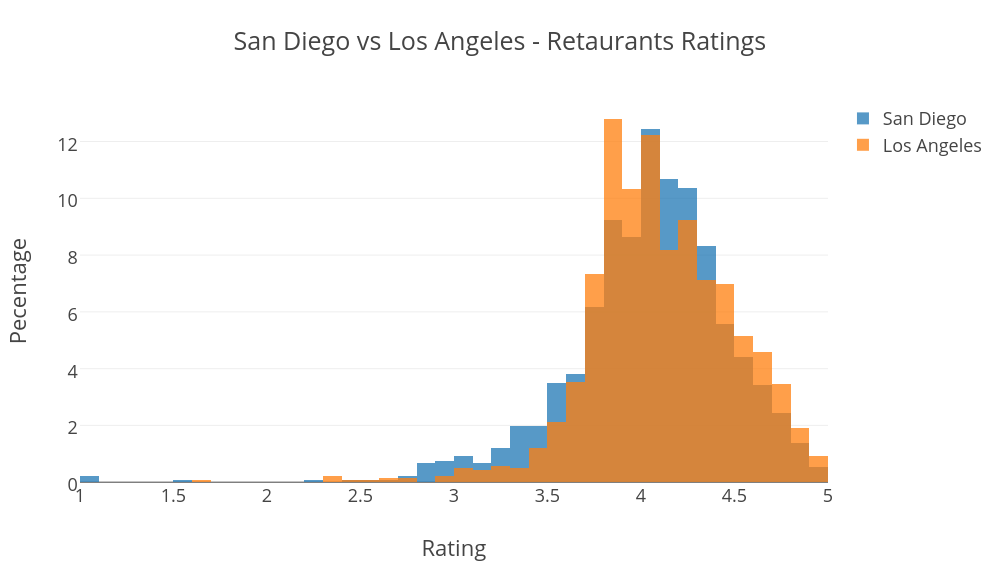 Which city has better X food?
We have been looking at restaurants in general, but what abou the various types of cuisines? To answer this question, I chose 13 ethnic cuisines: American, Caribbean, Chinese, French, Greek, Indian, Italian, Japanese, Korean, Mediterranean, Mexican, Thai, and Vietnamese. The number of restaurants can serve as an indicator of the overall popularity of a ethnic cuisine: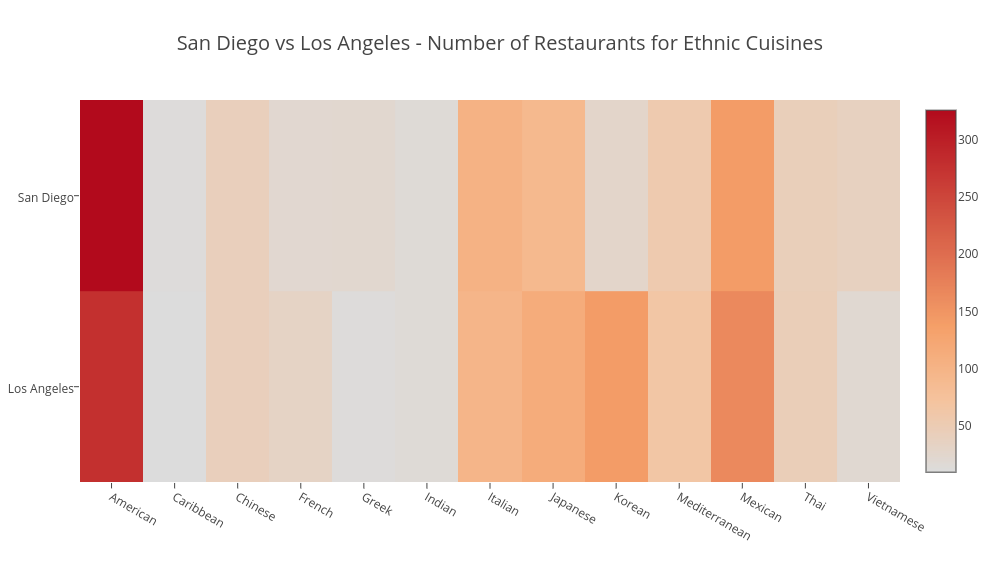 Surprisingly, American cuisine restaurants dominate in both San Diego and LA (at least to me whose impression of American food is McDonald's and KFC). The next popular ones are Mexican, Italian, and Japanese. Interestlngly, LA has way more Korean restaurants than San Diego, which correlates with the significant Korean American population in LA.
Now, which city offers better options for each ethnic cuisine? Let's find out!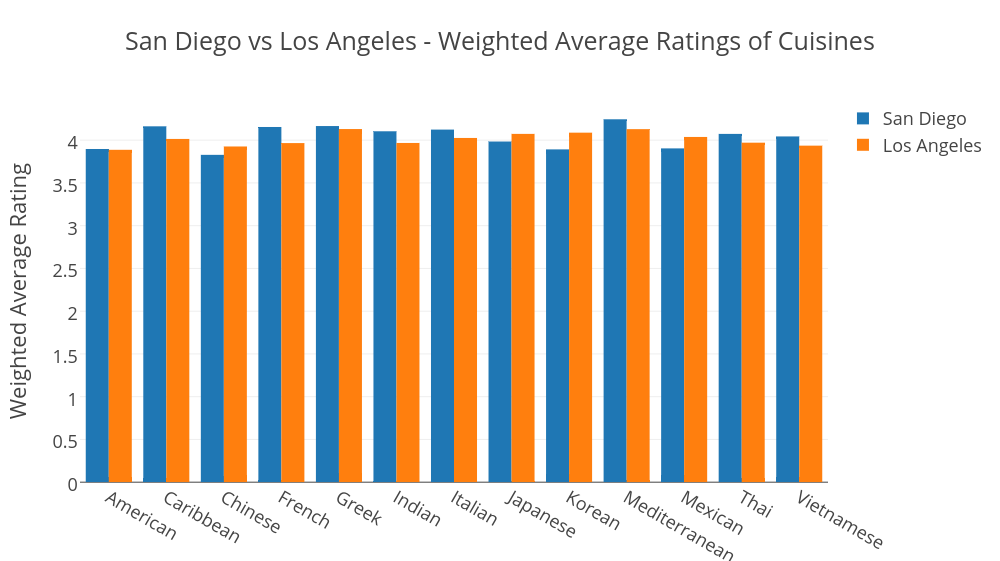 The two cities are actually quite comparable when we consider the ratings. Nevertheless, it seems that San Diego outperforms LA in most of the 13 chosen ethnic cuisines, while LA has better Chinese, Japanese, Korean, and Mexican food. Interestingly, Mediterranean food has the highest rating in both cities.
What to explore next?
I will conclue this post with some recommendations for your future food adventures in San Diego and LA. 10 restaurants are picked from each city which has the highest rankings based on its popularity (how many times it has been rated) and quality (rating). Enjoy!
San Diego:
| # | Name | Price | Address | Website |
| --- | --- | --- | --- | --- |
| 1 | Hash House A Go Go | $11-30 | 3628 5th Ave | http://www.hashhouseagogo.com |
| 2 | Extraordinary Desserts | $11-30 | 1430 Union St | http://www.extraordinarydesserts.com |
| 3 | Lucha Libre Gourmet Taco Shop | Under $10 | 1810 W Washington St | http://tacosmackdown.com |
| 4 | Snooze an AM Eatery | $11-30 | 3940 5th Ave | http://www.snoozeeatery.com |
| 5 | Carnitas' Snack Shack - North Park | $11-30 | 2632 University Ave | http://carnitassnackshack.com |
| 6 | CUCINA urbana | $11-30 | 505 Laurel St | http://www.urbankitchengroup.com |
| 7 | Sushi Ota | $31-60 | 4529 Mission Bay Dr | http://www.sushiota.com/ |
| 8 | Slater's 50/50 - San Diego | $11-30 | 2750 Dewey Rd, Ste 193 | https://slaters5050.com/locations/san-diego/ |
| 9 | Urban Solace | $11-30 | 3823 30th St | http://www.urbansolace.net |
| 10 | Tajima Ramen House | $11-30 | 4681 Convoy St, Ste I | http://tajimasandiego.com |
Los Angeles:
| # | Name | Price | Address | Website |
| --- | --- | --- | --- | --- |
| 1 | Bottega Louie | $11-30 | 700 S Grand Ave | http://www.bottegalouie.com/ |
| 2 | Wurstküche | $11-30 | 800 E 3rd St | http://www.wurstkuche.com |
| 3 | Daikokuya Little Tokyo | $11-30 | 327 E 1st St | http://www.daikoku-ten.com/locations/littletokyo/ |
| 4 | Father's Office | $11-30 | 3229 Helms Ave | http://www.fathersoffice.com |
| 5 | The Griddle Cafe | $11-30 | 7916 W Sunset Blvd | http://www.thegriddlecafe.com |
| 6 | Philippe the Original | Under $10 | 1001 N Alameda St | http://www.philippes.com |
| 7 | Pink's Hot Dogs | Under $10 | 709 N La Brea Ave | http://www.pinkshollywood.com |
| 8 | Perch | $31-60 | 448 S Hill St | http://perchla.com |
| 9 | Bestiae | $31-60 | 2121 E 7th Pl | http://www.bestiala.com/ |
| 10 | Urth Caffé - Downtown LA | $11-30 | 451 S Hewitt St | https://urthcaffe.com |